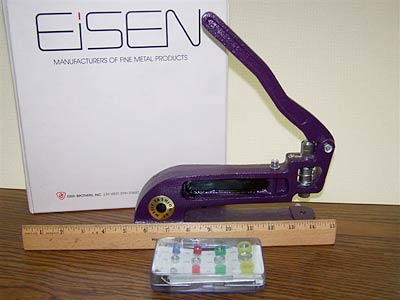 Handpro Machine
Lightweight (8 lbs w/tools)
Heavy duty casted machine
Attaches variety of nailheads: sizes 20-30-40 & 60- right side up.
Works on rimsets size 5mm/20, 8mm/40 and 11mm/48 with stones upside down.
Changes dies very quickly by hand!
Directions for nailheads:
Insert top die
insert bottom die
using metal tool place prongs of nailheads on pad and insert in top die.
Adjust screw if necessary not to crush nailhead.
Also works on squares and pyramids!
20 die: 20 flat square and 703 pyramid
30 die: 30 flat square and 702 pyramid
40 die: 700 pyramid

n.b. All dies-can work on regular, longleg and extra longleg nailheads+rimsets.